Live at Lakeview 2023 Season begins June 29th!
Artist Application are now being accepted – https://bit.ly/2023LALV_ArtistApp
If you're interested in sponsoring the event or joining us as a vendor, please email LiveatLakeview@gmail.com
Every Thursday night hundreds of locals and visitors gather at Lakeview Commons to enjoy a wide variety of live music and live art as they shop with local vendors, eat delicious food and take in the views of Lake Tahoe from the beer & wine garden. These events are FREE to attend and also offer a FREE Bike Valet Service!  Parking is limited; with off-site locations available at the SLT Recreation Center (1180 Rufus Allen Blvd.) Bike or hike!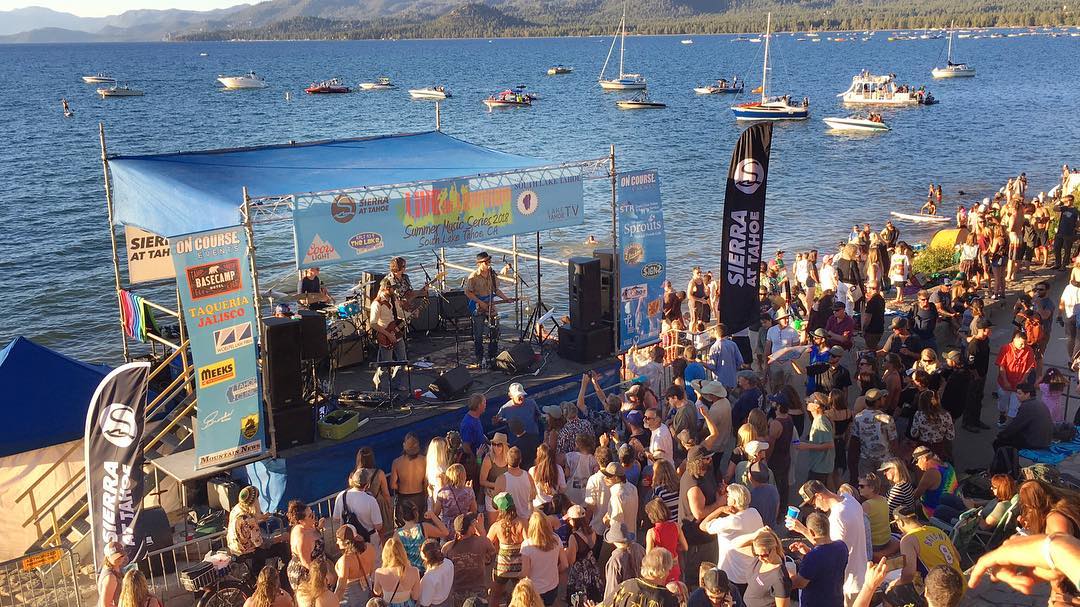 FREQUENTLY ASKED QUESTIONS?
What is Live at Lakeview?
A FREE community concert providing great music, great people, and great vibes! Each event features live music on the beach, local craft and food vendors, and a beer garden. EVENT/PARK RULES: No Smoking, No Outside Alcohol, No Dogs.
When is Live at Lakeview?
4:30 pm – 8:30 pm every Thursday from June 23rd through August 25th, 2022
Where is Live at Lakeview?
Lakeview Commons, South Lake Tahoe, California (corner of Highway 50 & Lakeview Ave). Please note, PARKING IS LIMITED!
Is there Beach Access?
Limited beach access is available, as safety permits.
The lake is at full capacity + it's incredible! That water level has caused some erosion of the walls at Lakeview Commons. With safety of the community in mind, the @cityofsouthlaketahoe has limited beach access. Public beach access remains available to the right side of the stairway, as safety permits.
The good news is, that brings the music closer, with an intimate stage and that same panoramic view of Lake Tahoe as the backdrop!
PARKING TIPS!!!

Ride your bike or plan to hike! Live at Lakeview offers a FREE bike valet service every Thursday. Additional parking is available at the South Lake Tahoe Recreation Center located at  1180 Rufus Allen Blvd.
For more information on the Live at Lakeview Summer Music Series, contact our team at Liveatlakeview@gmail.com