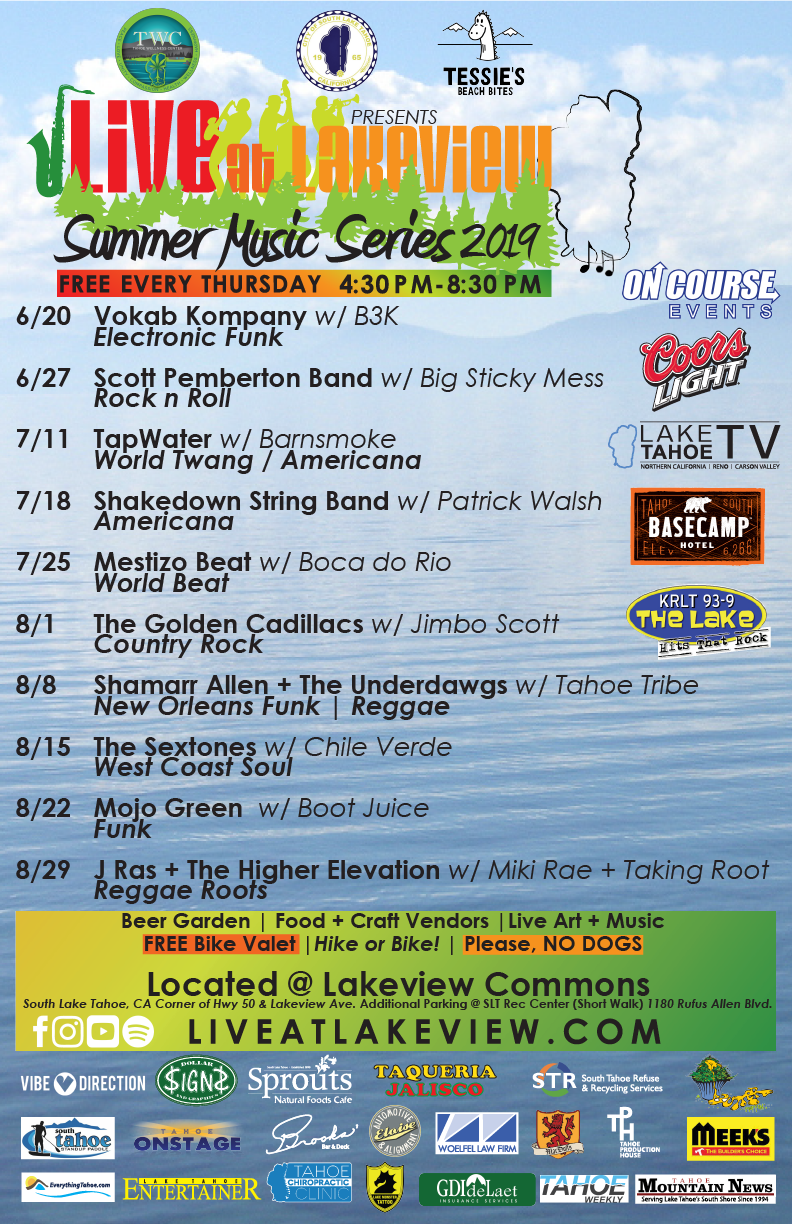 Tahoe Wellness Center, Tessie's Beach Bites + The City of South Lake Tahoe present the Live at Lakeview Summer Music Series 2019 lineup.
The series will begin on Thursday, June 20th with the highly anticipated return of Vokab Kompany, featuring a brand-new act B3K, a new sound from South Lake Tahoe's Robbie Gallo.
"We're excited to share the lineup for the eighth season of Live at Lakeview," says Leslie Schultz of On Course Events. "This summer's lineup is packed with high vibes and good energy! You know when Live at Lakeview kicks off that summer has arrived!"
Live at Lakeview is a free weekly concert series hosted at Lakeview Commons, in the heart of South Lake Tahoe. Every Thursday (June 20-August 29, except July 4) the event hosts live music and art on the beach, along with a variety of local merchants and delicious food options plus amphitheater style seating and breathtaking views of Lake Tahoe from the beer garden.
"This season's beer garden proceeds will benefit South Tahoe BMX," states Leslie Schultz of On Course Events. "It's important for our guests to know their beer garden participation supports a great cause here in our local community."
New this year, guests will be able to order food from their phones during the concerts, newly expanded valet areas to host Lime scooters and an update look to the stage for the ever-changing shoreline.
Parking is limited around the venue; however, a complimentary bike valet service is offered every week. Biking and carpooling is strongly encouraged. Additional parking is available at the South Lake Tahoe Recreation Center (1601 Rufus Allen Blvd.)