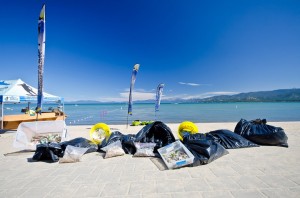 Every Monday morning, the producers of the Live at Lakeview Summer Music Series (On Course Events) gathers its staff and a few volunteers to clean up the beach, park, and surrounding neighborhood areas of Lakeview Commons. On average, the group collects approximately 15-25 lbs of trash each week.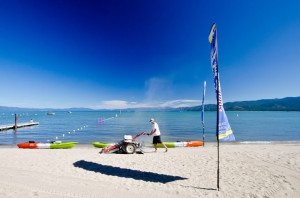 After getting rained out with thunderstorms on Thursday, July 25th and being forced to move the concert down the street to Tep's Villa Roma, the On Course Events crew remains dedicated to the weekly cleanups and invited Bruce Hernandez to join in with the Sand Sifter machine.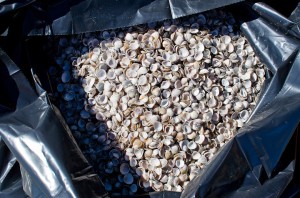 This machine collected 165 lbs of trash and 30 lbs of Asian clam shells with two passes across the sand in about 1.5 hours. Volunteers collected another 35 lbs of trash by hand, throughout the morning.The most common items picked up from both the machine and our volunteers included: cigarette butts, bottle caps, and wrappers. Some of the more surprising items included a bike, diapers, and a beach ball.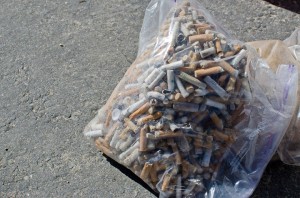 Volunteers are encouraged to join the weekly beach cleanup efforts to keep our beaches litter free and to keep Tahoe blue. Those interested in joining can meet at Lakeview Commons every Monday morning through September 2nd at 10:00 am. Buckets, gloves, and trash bags will be provided.

Live at Lakeview will return to the beach this Thursday with the Polyrhythmics, a hard-driving, modern world-beat orchestra from Seattle, WA. For more information go to Liveatlakeview.com
ABOUT LIVE AT LAKEVIEW
The Live at Lakeview Summer Music Series is a free event series that takes place every Thursday through August 29th from 4:30-8:30 PM at Lakeview Commons.  Please ride your bike and utilize the free bike valet or take advantage of free parking at the SLT Parks and Recreation Department on Rufus Allen Blvd.  The series is financially supported through local sponsorships, vendors, and beer sales. City of South Lake Tahoe ordinances for Lakeview Commons Park will be strictly enforced every week: no dogs, no outside alcohol and no smoking. For more information Liveatlakeview.com
ABOUT SAND SIFTERS
Sand Sifters, owned and operated by Bruce Hernandez, offers a cleanup service with its light weight, stand behind, machine that aerates and sifts debris out from under the sand. The Sand Sifter is propelled by high flotation rubber tires and is powered by a noise restricted 5.5 HP Honda gasoline engine. This structure elevates the sand and utilizes a sifting screen to sleeve the debris. The cleaning depth of this machine is adjustable from 0-4" and will quickly remove aquatic mussel shells, broken glass, bottle caps, and cigarette butts from our beaches. The Sand Sifter is fully licensed and insured and TRPA approved. For more information email hernandezbruce22@yahoo.com