We're getting super excited for the return of the Live at Lakeview Summer Music Series! Our first show will be June 20th so that means only 42 more days, and only 6 more Thursday evenings (tonight included) without live music at Lakeview Commons!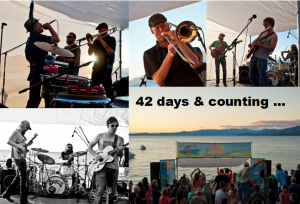 Photo Credit: Dylan Warren & Larry Sabo
I know how much our community wants these free events to return, but we are going to need this community's help and support to make it happen all summer long. It's so easy to get involved, you can support these concerts through sponsorship or by volunteering your time. Don't worry, we plan to take good care of our volunteers by raffling off sweet prizes from our local sponsors each week and did I mention the grand prize of the season is a RIVIERA Standup Paddle Board?!?! (courtesy of South Tahoe SUP)
So if you can't wait another 6 Thursdays to get involved with these community events, come hang out at Lakeview Commons on Thursday, May 23rd from 5:00-7:00 pm and learn about all the cool volunteer opportunities this summer!
Can't wait to see all of you smiling and dancing with us every Thursday!