If you've started to notice all your friends and co-workers have been requesting Thursday's off this summer, well that's because they know what's up! South Lake Tahoe's signature summer concert series, Live at Lakeview, is returning to the beach on June 25th with ten weeks of incredible music lined up!
Now is the time to preview the lineup, request Thursdays off from work (and Friday's if you know what's good for you) and most of all, get STOKED for a great summer filled with live music on the beach!
Live at Lakeview Summer Music Series 2015
What: FREE summer music series
Where: Lakeview Commons, Lakeview Ave + HWY 50, South Lake Tahoe, CA
When: Thursdays 4:30 – 8:30 pm (June 25 – August 27)
Who: See full lineup below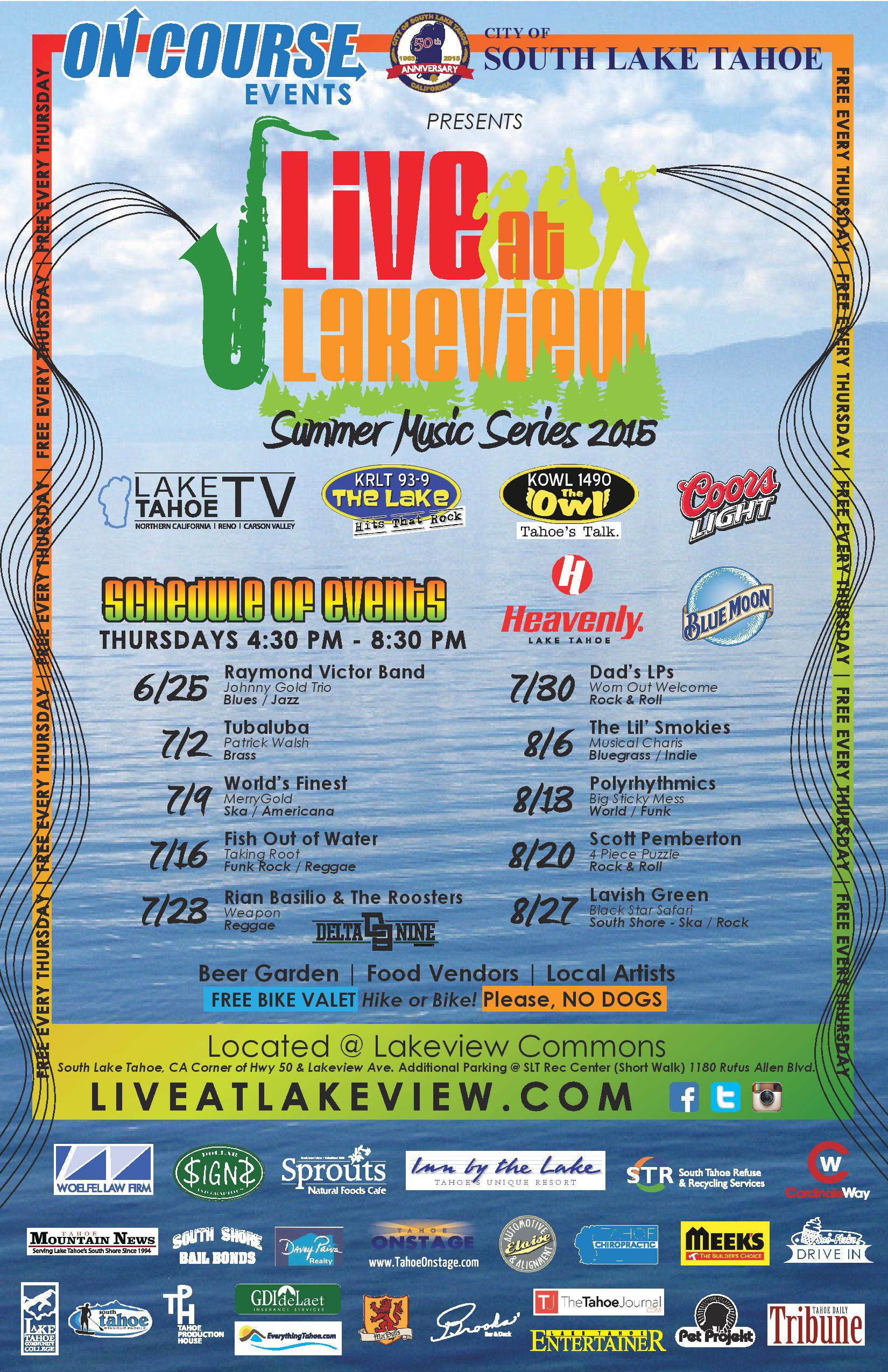 HOW?!
One of the most commonly asked questions! You know this 10-week series is FREE to enjoy, but it's not free to produce. So, HOW does it all happen?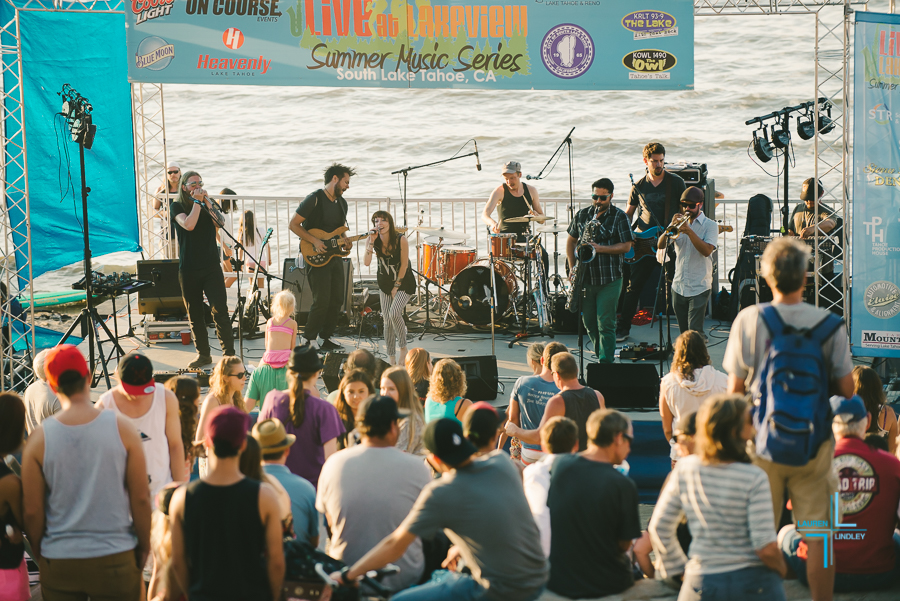 TRUE TAHOE SUPPORT!
The community support has been incredible since season one, with more new sponsors getting involved each year! As we gear up for season four, there are 30 local businesses and organizations (count the logos above) that have offered their support through monetary sponsorships, equipment and/or services trades, and shared promotions. Some are able to make larger contributions but the fact of the matter is that every little bit helps.
We're proud to have so many incredible sponsors and ask that each of you pass along your appreciation to each and every one of them. Whether its your employer, favorite lunch spot, or local newspaper – make sure you express your gratitude to each of them for the ten weeks of fun they have provided for you!
Next time you stop by Sprouts Natural Foods Café for lunch, thank Tyler & Cheryl for feeding keeping your favorite musicians fueled up so they can rock the beach for you!
When your friends and family see the lineup and want to join in on the fun, send them to our friends at Inn by the Lake for incredible lake views and great deals within walking distance from the venue. Don't forget to thank them for housing all of our entertainment so this could all be possible!
When you stop by Sno-Flake Drive In for ice cream, thank the new management for the great events they've helped to support!

When you need an adjustment after too much dancing on the beach, stop by and see one of our newest sponsors at Tahoe Chiropractic Clinic (located behind Sprouts).
If you run into any trouble this summer in the day-to-day Tahoe life, such as legal issues, car troubles, or the daunting idea of moving into a new place – our friends at Woelfel Law Firm, South Shore Bail Bonds, Eloise Automotive and Davey Paiva Realty are all here for you! Just make sure you let them know how much you love Live at Lakeview .
I think you get the idea, so thank you all for spreading the love! We can't wait to see you on the beach.
Stay tuned to our blog for exclusive coverage on upcoming entertainment, a backstage look at all the work that goes into each show and tons of insight on the amazing amount of support this community provides in order for you to have enjoy the great music, great vibes & great views at Live at Lakeview every Thursday.